It's getting close to the start of my Spring Exhibition so I am frantically finishing off paintings, putting them in frames and mounts and sorting out my prints . I have had a few new card designs printed too, and I am constantly checking supplies of my new DVD as orders are still coming in thick and fast.
All the paintings that I did for the DVD will be in the show alongside alternative interpretations of similar subjects: rivers, meadows, hawthorn trees through the seasons.It is all looking rather colourful- foxglove meadows, lavender fields, teasels, bluebell woods, woodlands, cowparsley, and hedgerow subjects.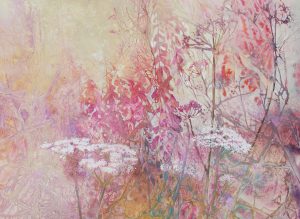 The courtyard outside my studio is looking fantastic at the moment. I just hope it lasts until the exhibition! There are foxgloves, columbines and a kind of vetch that has simply appeared from nowhere,all growing out of the gravel. There are alliums and lupins and the hollyhocks and 'love in a mist' are still to come.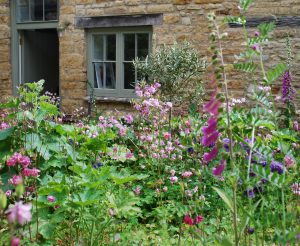 By the way the pub over the road is now closed unfortunately so you will have to get a coffee/lunch/tea in Moreton in Marsh or Shipston on Stour before you come ( or afterwards- depending on your priorities!) You can park in the pub car park however or down the road at the village hall. There will be some yellow signs up on the main roads around Todenham. Please don't rely on the google map directions on my Ann Blockley RI Facebook page as it is not accurate for some weird reason. Church View is (surprisingly) opposite the church and 'library phone box' in Todenham. (NOT Toddington – as someone once went to!)
Hope to see you soon!

The Spring exhibition is at Church View, Ann's Studio gallery, Todenham, GL56 9PF, UK – June 8th-14th See events page for further information