The weather is so strange at the moment. Within the last two weeks we have had everything from plenty of rain, warm sunshine, wind or mist to bitter cold, a dusting of snow and hard frost. My garden does not know what season it is. The snowdrops, primroses, daffodils, hellebores and crocus are all blooming but last week I was photographing the remaining honesty seed heads with a decorative crust of frost around each broken oval. I am very influenced by nature and as an artist I like to immerse myself in the season, gathering inspiration from it. I am finding it quite difficult to   feel spring like when it is clearly still winter. It is also hard to be properly wintry when the bees are out foraging and the squirrels are still out and about getting fatter by the minute!   We are all confused and it just doesn't feel right.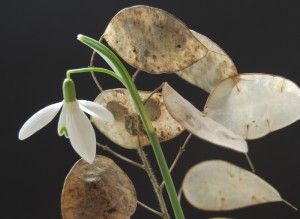 Today is a brown and grey January day and I found myself painting a bright autumn hedge! I needed some colour to lift my spirits and enjoyed pouring ink into vivid watercolour and breaking it up into granulated textures and broken patterns.   I went for a walk whilst it was drying. I like to get plenty of exercise as it helps loosen me up in order to loosen my paintings up! The break also ensured that I would leave the vulnerable washes alone at this critical stage and stop me fiddling with it!
I began the walk, picking my way through dreary puddles, past bare and dull hedgerows. It was hard to see anything of special interest. At the end of the lane where I always carry straight on into the field I suddenly had the thought to turn right instead. Not exactly a ground breaking moment but I found myself pondering why I had never gone this way before. It had simply never occurred to me. When I looked at the hedges  along this stretch of field I saw that its tapestry of twigs were a crumbly silver texture and crisscrossed with zigzags of gold lichen encrusted branches. Where bramble leaves flickered in the wind and turned their back to me they revealed that behind their usual disguise of boring green lay a pale silvered lining. These little light patches shone out from the hedge and waved to me.  Back along the other side of the meadow I followed the winding river edged with its tangles of willow . Their sinuous, bent and fallen trunks lay across the water like twisted bridges. Elbows and shoulders of branches hunched and fingered the river edge pointing to the sparkles in the water and the reflections of further trees and undergrowth.  By making a very slight change in my routine I had discovered riches. They had been there all along but I had never thought to explore that particular route.  A minor change had made me open my jaded eyes a bit wider and look at the world afresh.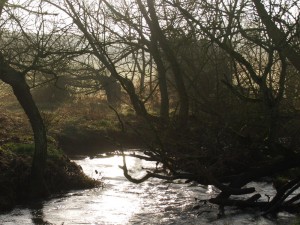 This small but rewarding diversion from my normal path made me wonder whether we could apply the same idea to our painting process. Personally, I am always questioning myself, searching for something new, something different, wondering whether I should head off in a completely new direction. Perhaps, after all, some simple change in the way we work or look at things would be sufficient? Perhaps there is something within our existing range of techniques and ideas that could be developed and explored in more depth, to find a subtly different emphasis and focus? Definitely food for thought. With those musings in mind I returned to my studio to look at my painting with fresh eyes. Still wet. Time to write a blog!
---