I find painting difficult. I always have done. It sometimes feels like drawing blood from a stone. I often feel that I could write a book about artist's block- My name even has a 'Block' in it! However, I have realised that my problem is not stifled creativity – it is a surfeit of ideas! I am always so brimming with thoughts that sometimes I get confused about which way to turn.  Ever searching- earlier this year I decided to explore a completely different  avenue –something I have always been drawn  to but not had the confidence to try. Poetry.   I went on a day 's workshop at a local college feeling slightly foolish and fearful. Poetry scares me.
There were six of us and the tutor suggested that we begin by sitting in a circle to meditate and focus on what images came to mind about how we felt.  My heart immediately sank. What was I supposed to be feeling?  What kind of images did he mean?  Why had there been no tutorial before we began? At least we did not have to sit cross legged and hum.  I was clearly out of my depth and my cynicism was at full   pelt. Everyone had to recall what they had been thinking and we took turns to tell.  When it came to me I confessed that I did not really know what I was supposed to be saying or what was appropriate. In desperation I conjured up the idea that I had been lost in a  wood and had reached a clearing where a golden beehive stood.  I waited for the tutor's comments.
'Why did I feel that I was 'supposed ' to be doing something specific? '……..At these words my internal  light bulb   switched on!   I realised straight away that I did not have to try and please anyone, that nobody could tell me what to do or think. There are no rules- we just search inside ourselves to find a way forward.
And my image?  The wood was a metaphor for my uncertainty about which way to turn but the bee hive was my inner knowledge of being a  sweet treasure trove of industry- full of creativity.   'I love that idea' , I said ,'but I  am a fraud because that image only came from having painted something similar last week'. ' But out of all the many thoughts that were possible',he replied, ' the beehive in the wood is the one that surfaced at this particular moment.'   SOLD.
Having spent the morning inside (with no poetry to report yet)  we were sent on another exercise outdoors 'to see what we were drawn to in nature and write about it  if we wanted to.'  I was relieved to be in the fresh air and wandered past a few daffodils , wondering whether these were going to show any  magnetic signs of  luring me in. Nothing so far. I meandered a bit further and spotted a magnolia tree in bud. Something made me move towards it. I could hear the murmur of some water- an underground  spring perhaps, as I could not see it.  Birds sang as I approached the tree and saw that a large, pointed stone was dangling from one of its branches. I found myself reaching for my notebook.  scribbling down words as fast as they poured out.  I wrote  the last two verses later, after I had returned to photograph the scene. I  had approached it from a different path and was astonished to see that the other side of the stone was actually a colourful mirrored mosaic.   The metaphors and meanings woven inside  the  words suddenly seemed enriched and I discovered  layers of thought that I had not even been aware of:
Written in stone
Stone
Suspended from string
Turning, twisting
Swinging to and fro
Pondering, testing the air
Feeling the energy
Divining which way to go
String
Tied to magnolia bough
blotched branches twist
With buds expectant
Pointing. Sensing the air
Gauging the temperature
Wondering if the time is now.
Spring
 Gossiping and bickering
A running commentary
 with harts tongue fern
A source unseen
A scene unsourced.
Babble to be ignored.
 Listen to birdsong
Stone
Suspended from  string
By the spring
Under the magnolia  tree
Stirring. Gently moves.
Spins and swings towards me
But shyly turns away.
If I wait it will turn again.
Another day
Later
 Drawn to the  pencil line
 of string  holding
 taut this hanging thing 
I approach in a different way
Out of the shifting shadows
Into a sunlit part of the play
And see
the other side of the rock
Contains images of me!
Not written in stone
 but   in multi coloured glass
shining  shattered shards
fragments of pain  and glory
 but also I  reflect-
windows to a different  story.
I could not believe what I had done and reported back with sheepish glee to the other students who were now back in the circle.  They encouraged me to stand and read my first poem and they  applauded when I finished.  It was a huge moment that I won't forget.  
I published my first  painting book when I was  just beginning to learn how to paint- the cheek of it!  So I thought- why not share my poems or creative writing whilst I learn this too? (It has taken me six months to pluck up courage after my initial bravado at the workshop)! I would love to hear from you  if you have any  constructive criticism  or tips at: ann@annblockley.com  Thanks!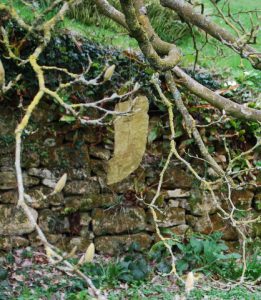 _______________________________________________________________________________________________________________________________________________________________________