2-DAY COTSWOLD PAINTING WORKSHOPS
Stop press.. Covid Virus.   I shall be  making a decision  about whether to run, cancel or postpone the JULY workshops nearer the time- to follow government guidelines.At the moment- they are still  in the diary to go ahead.  The JUNE workshop is now taking place in October. Please watch this space for further  updates  and I will send emails  if there are to be any further changes. In the meantime- keep safe and do some fantastic painting!
***********************
  The current dates are all full- please email  ann@annblockley about cancellations.  Further dates may be added later in the year and anyone on the cancellation list will receive advance notification of these. Due to volume of mail I may not be able to respond personally to your email messages.  Thank you.
I am excited to announce that I am tutoring some watercolour workshops in the Cotswolds again in 2020! There will be two workshop types. One is my traditional workshop for those of you who have not had chance to attend yet. The other is NEW, more experimental and involves some outdoor work and short distances of walking. The venue for both workshops is:
Todenham Village Hall, Gloucestershire, GL56 9PD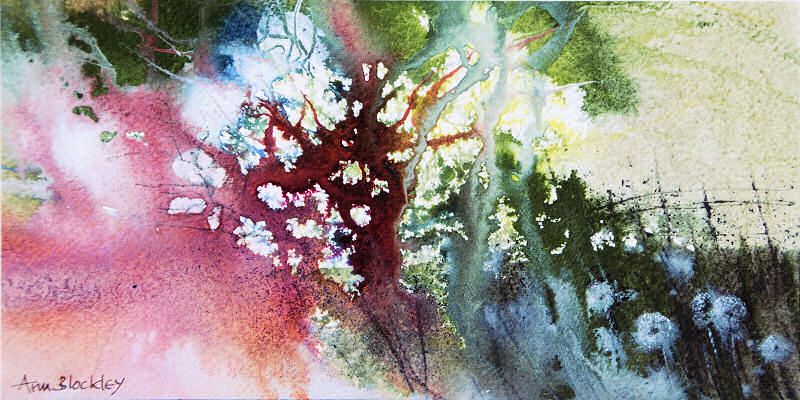 EXPRESSIVE INTERPRETATIONS IN WATER-BASED MEDIUMS
June 1st & 2nd   NOW OCTOBER 5-6 FULL – 10am – 4pm 2-day course £300 
This 2-day watercolour workshop is based around my most recent book 'Watercolour Workshop'. It will include themes of loosening up and creating expressive interpretations with experimental and textural techniques. On the workshops I will be demonstrating and sharing some of my favourite nature subjects and methods using watercolour by itself or combined with other ingredients. These workshops are mainly for people who have not been on my workshops before but have some watercolour experience. Those of you who have been before are welcome to attend but the content may repeat what you have already learnt.
NEW

– CONNECTING WITH NATURE
July 6th & 7th  FULL 10am – 4pm   2-day course £300
July 20th & 21st  FULL 10am – 4pm   2-day course £300
This workshop is for more experienced artists or for students who have previously attended Ann's workshops and are looking for further stimulation! You may use any water-based medium– it does not have to be watercolour. The 2 days includes sketching and photography in nearby fields on the first morning. We will make visual notes from the landscape views, hedgerows, trees, wild flowers and bird life. The rest of the time will be spent experimenting indoors, building on the information gathered. The emphasis will be on enjoying the process and not necessarily to create 'finished' paintings but to explore ideas and options. You will be encouraged to work loosely and use your imagination to create an expressive, 'towards abstract' style with which to interpret nature subjects.
I am anticipating that places will be filled very quickly so please book promptly in order to avoid disappointment. I'm afraid I don't know at this stage whether there will be any further dates added in the Autumn and places cannot be reserved for future workshops. However, please email ann@annblockley.com if you would like to be put on a cancellation list. If there are lots of enquiries you may not receive a reply until a space becomes available.
CANCELLATION POLICY
Places on Ann Blockley workshops are limited and we therefore operate a cancellation policy regarding refunds.
Once you have received confirmation of your place on the workshop you will be liable for the whole fee unless we receive written notification of cancellation at least 10 days before the event date. Please note that for cancellations made 10 days or less before the event, the workshop fee will be non-refundable. Written notification of cancellation can be sent via email to ann@annblockley.com or by post to Church View, Todenham, Glos, GL56 9PF.
For bookings cancelled at least 10 days before the event, the applicant will be refunded if the space is subsequently filled minus £25 administration fee. No refund will be made for non-attendance on the course.
In the unlikely event of cancellation by the tutor, course fees paid will be reimbursed in full, but we are unable to reimburse any other costs that may be incurred, such as flights, accommodation etc. Please make arrangements on the basis that workshops will go ahead at the discretion of the tutor, whatever the weather or unusual circumstances as often students have already travelled from overseas before the event. 
---