I promised to tell you about the brushes I use to create my paintings. Firstly I want to say that  I am not a 'materials junkie'. I don't feel the need to get the latest brush or believe that the most expensive is necessarily   the best option. It is easy to fall into the trap of thinking that 'if only' you have a certain colour, medium, brush shape or brand of paper that all your painting problems will be resolved!   Having said that, brushes that shed hairs or do not have a lovely point  can certainly be discouraging so I wouldn't go for the cheapest brands.  I am very hard on my brushes. I  get too involved in the painting process itself to remember to look after them properly therefore I don't always feel I deserve fantastically expensive brushes!  I  have a mixture of  sable hair  for the finest work and synthetic/sable mixes for  broader areas or for images using  other mediums such as acrylic paint. If I am working on a gesso or collage surface I may use much cheaper acrylic style brushes which are more hard wearing. The pictures below are all ones  I use with actual watercolour painting.
  Round brushes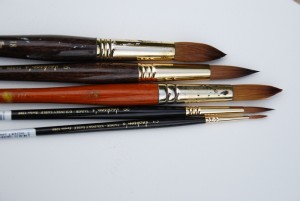 I use a selection of round brushes.  To create first washes and big backgrounds I use at least a size 16 and sable where possible. I have several brushes on the go, using a different one for separate colour mixes. This means I don't have to keep washing my brush in between different colour sections of  the wash which wastes so  much precious paint.  I am miserly about that! I also use a smaller brush, say size  6-8 (it is not critical) for more detailed areas and very occasionally a really small one for a fine detail although the point of a rigger would do just aswell for this.
Flat brushes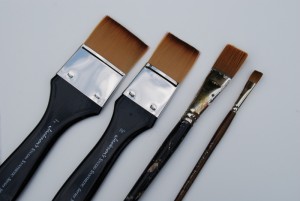 I do love my flat brushes!   I have all sizes from 2″  to 1/4″.  This has reminded me that I must get a bigger one too! I like the way you can create an 'edgy' wash and you can use the flat shape to paint around things in a more quirky, geometric way than  with round brushes.  You can also use the actual shape of the brush to create geometric shapes and lines either working in the direction of the  subject or at right angle to it    ( for example the trunk of a tree or fencepost).   These qualities  help create  a more unusual, less 'pretty' interpretation of the subject .  The brushes illustrated are synthetic. I prefer this to sable in a flat brush as they are  firmer and  you have more control.
 Other tools and brushes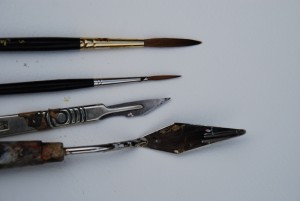 I have recently started using rigger brushes and can't understand why I left it so long. I am now addicted!  They have to be good quality sable and I prefer the long, thin, most flexible ones.  Armed with these you can create wonderful fine lines- either straight or long and meandering. Perfect for flower stamens and for grasses and branches.  The photograph does not illustrate this but I also use quite firm stubby acrylic brushes sometimes. They are good for scumbling on layers of paint or lifting colour out of a wash.  I have also photographed my palette knife and scalpel. The palette knife is great for splattering dots of liquid paint, using  just the flexible tip.  I also use the edge to 'draw'  lines with or drag pools of paint around.  The scalpel is for scraping damp watercolour away to create patches or lines of pale colour. I use its diagonal edge parallel with the paper to do this, not digging in.  There are other other ideas of how to use the scalpel on page 26 of my latest book 'Experimental landscapes in watercolour' . It is available from my website  shop:  www.annblockley.com
---