The time has come for me to share my big secret- I have recently compiled another book!   It is with huge pride that I can announce that my publishers commissioned me to write a long overdue  book about the life and paintings of my  late father G. John Blockley  RI PS RWS NEAC.  For those of you who do not know of his work- you are in for a treat! For those of you who are familiar with  it  you will know that John was a visionary and  progressive artist, whose paintings influenced and continue to influence a huge range of other artists across the globe ( including of course- myself!)  He wrote many books about his ways of looking at the world and the techniques that he used to interpret this vision.  Each covered the  different mediums and subjects that he was concerned with at the time.   These books are long out of print and for many years I have been asked by fans where they could obtain copies .
The commissioning editor of all my books, Cathy Gosling, who I followed from Harper Collins to Batsford books, was also editor  of some of my father's books.  She was very keen  for me to  compile   this  brand new book and helped me  through  the difficult decision making. We decided to  show the full range of  his artistic legacy- the mediums and subjects, all linked through the practice of drawing. Some of the images are featured in previous books but  a large proportion are previously unpublished and it is visually stunning! Working on two books  in one year has been quite  challenging but I am so excited and proud to have  put this together and feel that in some way it is the final piece of a jigsaw.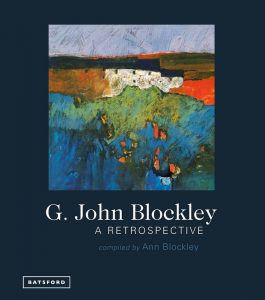 John Blockley- A Retrospective is due to be published by Batsford on July 5th. (144 pages- hardback)
Copies can be pre-ordered from my website shop: www.annblockley.com   
UPDATE! An advance copy of the book has arrived! It will be available to view at Ann's Book Launch exhibition and pre-orders can also be made at the exhibition. Early copies should be available in June. 
Please follow this link or cut and paste to find the  brand NEW  JOHN BLOCKLEY WEBSITE for further information  :    http://johnblockley.com