There have been some spectacular winter days recently and I have been out soaking up the colours and textures   for inclusion in some atmospheric paintings.   This morning I woke up early and could see from the window that the earth was frosty pale against the palest tangerine  tinted sky.  The valley  was layered with wisps of of mist.I  decided a walk before breakfast was in order before the frost melted and was so glad I did. It was simply magical.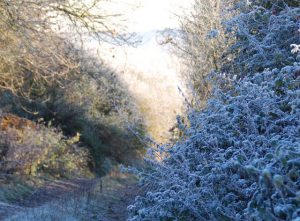 I walked down a favourite track where the hedgerows grow wild  up to several meters high. The intricate designs of their interwoven twigs and branches were emphasised by the frost and powder coated white. The  shady side  of the path sparkled silver but turned to gold where the sun  filtered through to the other side. Light dazzled through tiny  gaps in the shaded branches.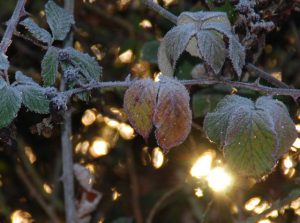 It was a huge tapestry of tangles and my eyes scanned the  rich patterns  for focal points.  A few colourful  leaves were still clinging and   sang out from the pale glittering monochrome hedge. The ruby red rosehips were also sumptuous accents of colour against the dull pewters of the shaded hedgerow.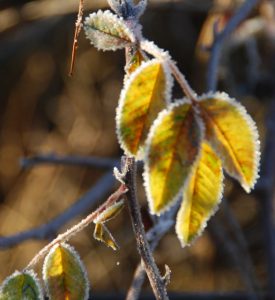 The bare skeletons of some  hogweed  beckoned me . Their  fragile  stems  were  linked  into lacy  patterns by frosty cobwebs sparkling  with tiny beads  of water.  The leaves on the ground were deliciously crunchy. Their white rimmed abstract shapes reminded me of some prints  I had made earlier in the Autumn . In the field at the end of the lane  the sheep had  similar bright halos -this time from the low morning sun . Long shadows were cast through the grass. Where the sheep had beaten a path through the icy  sage green meadow  the shadows of the tracks were the brightest blue.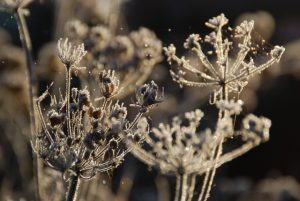 ---