Following on from my last post I thought you might like to see some photos. Here is me looking somewhat pleased with myself. We had just got married on the beach in the Seychelles. It was beautiful, with the sun sparkling silver on a turquoise sea and coral white sands. I  like to think that I looked appropriate in my aqua  silk dress with shimmering moonstone jewellry!  :
Earlier that day we had been snorkelling. The  marine underworld  is totally inspiring and opens up  whole new vistas of visual experiences. I had 'splashed out' on an underwater camera  and was  very glad I did . Even though I could scarcely see through  my blurry snorkel  I just kept snapping and it paid off.  I will have to write a separate blog about the fish because the  sheer variety, the colours and  shapes not to mention the backdrop of corals and seaweeds simply blew me away.   Actually, the current almost swept me away- it was very strong indeed.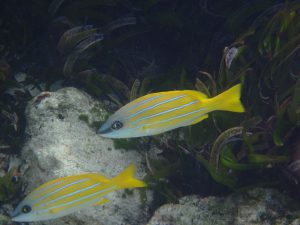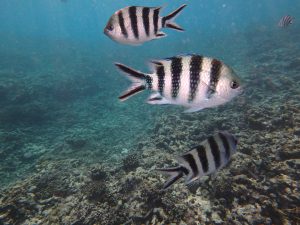 One of the places  that we stayed on our honeymoon was  a tiny piece of paradise  called Bird Island. Not everyone's cup of tea as the million and half birds in a very small area definitely  deafened you! But for us nature lovers it was utterly spectacular.  White Fairy terns  flit through the palm trees,   black seabirds gathered in their thousands on bleached driftwood structures,  humming birds  sipped at bougainvillea. It was just amazing.
The interior of Bird island is a mini jungle and  again, it was wonderful to be surrounded by such a natural environment with so many organic shapes and patterns.  Now we are home and the  holiday is over but I feel that the honeymoon  has just begun. I  can't wait to get started on  the next bit of my life and immerse myself in my painting again.
---