It is  still Summer but  already there is a taste of Autumn in the air. In the rural village where we live the lanes are lined with  the straw that has fallen off trailers piled high with bales.  Our kitchen table is laden with gorgeous red and orange tomatoes , some small and some large and flouncy shaped.   The victoria plums  are plumping up by the minute and I can sense the wasps  just sitting quietly on the sidelines just waiting for their moment to rush in and  begin their buzzy annual angry  tyranny in the garden.  In the street, neighbours disappear  back inside their houses when they see us coming with  yet more  armfuls of courgettes to give away.  There are seedheads , seedheads , seedheads  all over my garden. I love it.    When the stems  fall over or break I stick them in pots  by my studio door so that I can still enjoy their shapes and they can still spread their seeds for next year.
Inside the studio I am also buzzing around  gathering together paintings for  inclusion in the exhibition that I have been invited to join as a guest artist.  This is in the local market town of Chipping Campden with its honey coloured stone and  charming high street. As the exhibition has been called 'Fair Michaelmas'  I thought it only right that I include some seasonal subjects.  Every year in the local hedgerows I watch the butterflies dancing through the blackberries.  They never keep still for a moment  and when I paint them I like to try and catch an impression of  something  shy and ephemeral, camouflaged amongst the leaves and  patterns of the hedge.   This year the blackberries  are just beginning to ripen and it will be a really bumper crop so I am hoping there will also be  lots more fluttery visitors .    This painting of a  butterfly  in the blackberry patch  is only little- but I   have   really enjoyed  creating its sumptuous tapestry of colours.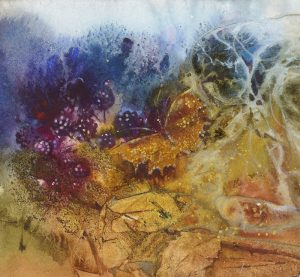 ' A butterfly in the blackberry patch' will  be  exhibited at   The Gallery at the Guild in Chipping Campden.  My paintings will be shown from August   27th to  September 15th.  I will be at the gallery from noon to 4pm  on Saturday 27th. Please do come and say hello and enjoy a glass of wine with us at the Meet the Maker  afternoon.
---