Well that was a surprise. My monthly Artist magazine  arrived today and there I was! Of course  I knew I had written an article for  the July edition – I just didn't realise it would be out so soon!  In it I have discussed the idea that if we 'think' in a different  more descriptive way it encourages us to loosen up and create a more abstract, and personal interpretation.
I have included a practical element showing how  I developed a very abstract  experimental  exercise into this semi abstract interpretation of a  tangly tree and crumbly wall: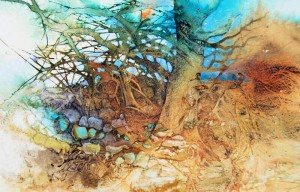 So look out for the July edition of the Artist magazine. My article is called 'Loosen up your thinking'.
---