I am sorry I have   not been updating my blog recently . I have decided to have a  quiet year and replenish the batteries!   I feel a bit selfish not sharing my activities   but I am limiting  my time on the computer  just for the moment.
People have contacted me about the annual Patchings art festival to ask whether I will be demonstrating this year. The answer is that I  have decided to do this every other year- so my next time will be in 2017. I am also being asked about  workshops but I'm afraid that I don't have any plans at the moment to do any.
My mission for the next few months is to  feed my painting and creativity by immersing myself in nature, taking lots of walks with camera and sketchbook and 'playing' quietly in my studio with no aim  other than to explore and see what happens. There are  exciting plans rumbling under the surface however with ideas for projects simmering away- but nothing  I can reveal just yet!
Last weekend we had  an utterly inspiring time in Cornwall walking  some of the coastal paths and visiting the fabulous  Lost Gardens of Heligan. Here is  a picture of me putting my head down and getting back to nature!:
The gardens were  gorgeously beautiful  and I found every square inch interesting so I was probably a nightmare to be with.  Low walls were full of primroses and moneywort whilst  richly coloured rhododendrons jostled for space with jungle like trees.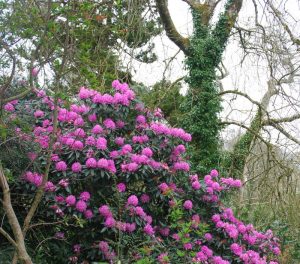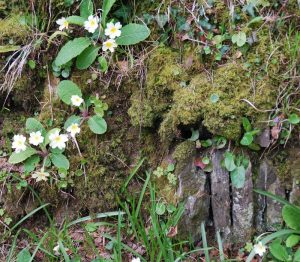 The coastal paths are so rich with plants and I love the three dimensional quality of looking up  or down at  subjects.  Birds flying above and below, gorse growing out of the tops of high banks and walls, seapinks nestled in rocks  and grasses on the clifftops.
I am back in my studio today and a chaffinch  has spent hours flying in and out of the plum tree blossom, tapping on my window with its beak. From another window I have  a close up, full view of our huge magnolia tree . It is  extravagantly covered in flowers this year and it has been  strange to see  the petals illuminated in sunlight one minute and  shimmering with hailstones the next. Blue tits  flit through the branches sometimes  sharing the space with a fat grey pigeon.  Birdsong is tempting me back outside again and back to nature.
---